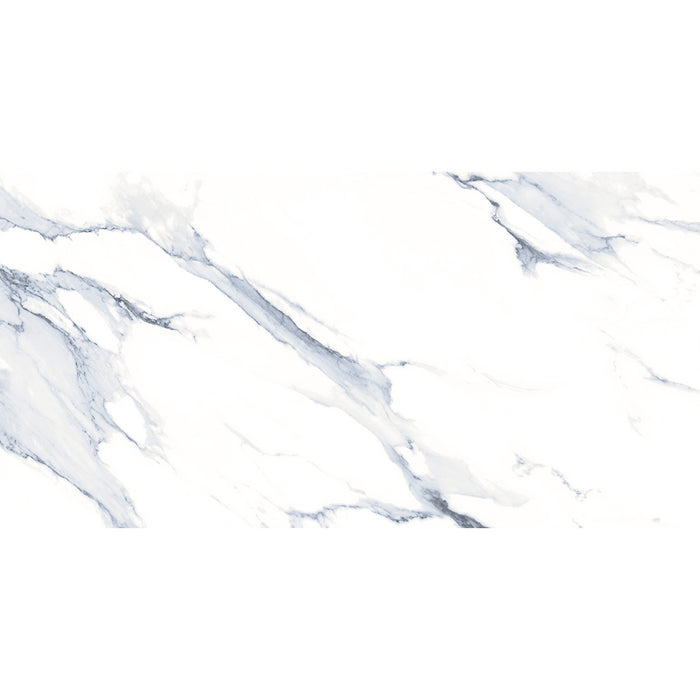 Calacatta Blue Marble Effect Polished Floor and Wall Tile - 30x60/60x60 and 60x120cm
If you are looking for that Instagram worthy tile that is sure to get lots of likes, look no further than our Calacatta Blue collection. With thicker smoke like tones, perfectly combining the marble features it takes it's inspiration from with a trending modern blue, the luxury polished finish ensures as well as looking good, these tiles are also easy to clean. Additionally, these porcelain wall and floor tiles come with precision cut rectified edges ensuring you achieve the hotel like finish they warrant.
Available in sizes of 30x60cm and 60x60cm, this collection also features a larger format size of 60x120cm.  Without a doubt, the Calacatta Blue Marble Effect tile will transform the walls and floors within your home regardless of whether you choose to install them in your bathroom, kitchen or living space.
Feel free to request a sample to see how these tiles look in situ. If you have any additional queries relating to this tile, feel free to contact us on 0116 216 66 77. 
We also have a wide range of bathroom fittings that will perfectly complement these tiles so feel free to view other collections within our online store.  Just like our tiles, our bathroom fittings are amongst the best priced online.
Specification:
Material: Porcelain
Thickness: 9mm
Finish: Polished
Suitability: Walls and Floors
Sizes: 30x60cm, 60x60cm and 60x120cm
Box Coverage: 30x60 (8 tiles/1.44sqm); 60x60 (4 tiles/1.44sqm); 60x120 (2 tiles/1.44sqm).
Anti Slip Rating: R9
PE1 Rating: 4
Rectified: Yes