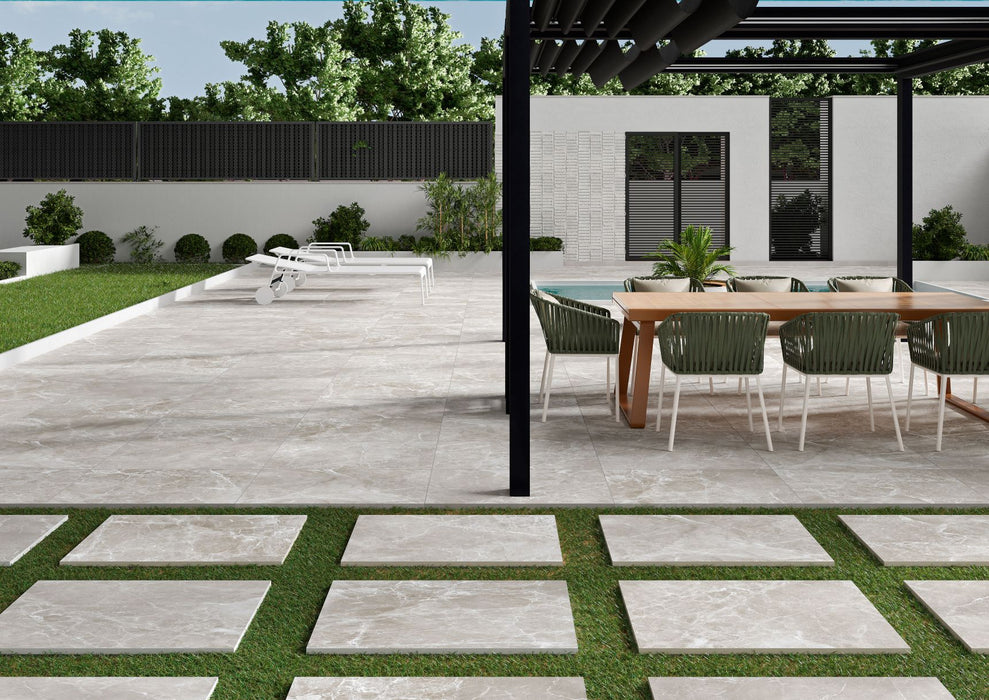 Grande Smoke 2.0 - 60x90cm Outdoor Tile
20mm outdoor porcelain tiles are fast becoming the number one choice amongst homeowners and landscape designers, given the selection we have available at Luxury Bathrooms and Tiles, it is not surprising!
Constructed from durable 20mm porcelain and visually pleasing in contrast to traditional pavers, our Grande Smoke comes in a darker yet vibrant colour tone in comparison to it's Grande Pearl counterpart.  As well as rectified precision cut edges, this outdoor tile also features an R11 anti-slip rating.  An exquisite design combining both natural stone and marble like features, this is a high end tile that will certainly transform your outdoor space.
The Grande Smoke 2.0 outdoor tile is available in a premium size of 60x90cm enabling you to achieve that rectangular look giving your outdoors a more spacious feel.
Please note samples of this tile are sent out as 60x45cm cut pieces.  This will represent half the tile size but enable you to feel the quality and design you will be adding to your outdoor space.
Feel free to contact us on 0116 216 66 77 if you have any additional queries. 
Specifications:
Material: Porcelain
Thickness: 20mm
Finish : Matt
Sizes: 60x90cm
Suitability: Outdoor/Floor
Anti Slip Rating: R11
PEI Rating: 4